The Scouting sections - supported by a team of Adult Leaders comprise of:
Joey Scouts (5 yrs to 7 yrs) meet Saturday 9.00am to 10.00am
Cub Scouts (8 yrs to 10 yrs) meet Wednesday 6.30pm to 8.30pm

Scouts (11 yrs to 14 yrs) meet Thursday 7.00pm to 9.00pm
Venturer Scouts (15 yrs to 17 yrs) meet Friday 7.00pm to 9.00pm
Rover Scouts (18 yrs to 25 yrs) meet Tuesday 7.00pm to 9.30pm
Please contact the Scout Group by telephone or email (details at the bottom of this page).

The Scout Group is located in Marchant Park, on Ellison Road, Aspley.
(see attached map)

If these meeting nights are unsuitable, you can see the meeting nights for nearby Scout Groups here.
If you are between 6 and 25 years old, see why you should join Scouts!

Information about Scouting is available on the Scouts Australia and the Scouts Australia, Queensland Branch websites
- or you could have a look at the History of Scouting.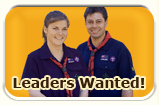 If you would like more information about Scouting or the Aspley Scout Group please contact:
(07) 3870 7000
Non Metro Free Call - 1800 'SCOUTS' (726 887)

Last updated 1 September 2017